System Requirements
Operating System: Windows 10 64bit version 1803, 1809, 1903, 1909 and 2004.
Windows 10 native Bluetooth stack (some of the features may not work with 3rd party stacks)
Internet connection: To activate the trial mode and to purchase a license.
Trial Mode Limitations
Until you purchase a license, the downloaded program will run in trial mode and has the following limitations.
Trial period will expire seven days after the installation.
You can check CODEC information of only one Bluetooth device.
Usage data may be collected. This data will be used to improve the software and never be shared with third parties.
If you find this program useful, please consider purchasing a license to support the development effort.
You can start the purchasing process from the program.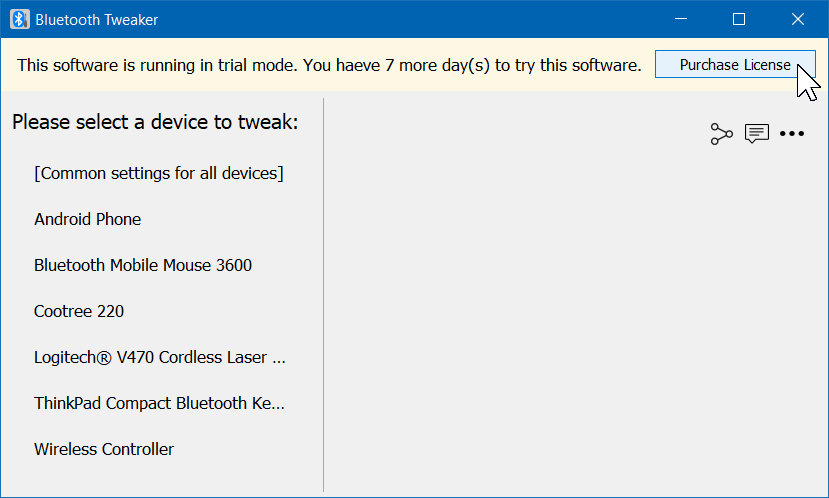 News
3/24/2021: Version 1.3.4 is released. (minor bug fix)
9/15/2020: Version 1.3.2 is released. (minor bug fix)
9/11/2020: Version 1.3.1 is released.
Now you can make your PC a Bluetooth speaker and play stereo audio from your phones, other PC, etc. (requires Windows 10 version 2004)
---
6/11/2020: Version 1.2.0 is released.
- Now shows CODEC's delay (if device reports it).
- Bug Fix: CODEC information may not be shown for AVDTP 1.3 devices.
- User interface improvements.
---
12/20/2019: Version 1.1.2 is released.
Minor user interface improvements.
---
7/22/2019: Version 1.1.1 is released.
"Legacy app control with AVRCP buttons" is extended to support Windows 10 version 1809 and 1903.
---
3/28/2019: Version 1.0.1 is released.
Thanks to many feedbacks during the beta testing period, we could finally release version 1.0. You can now keep using the software without worrying about the expiration once you purchase the license.
---
12/29/2018: Version 0.7.2 is released.
Now you can easily check which CODEC is supported by your headphone and which CODEC is enabled by Windows.
---